COMMUNITY TRANSIT SERVICES
Community Transit Services (CTS) is Northwest Ohio's premier transportation provider.
We service Lucas, Fulton, Wood, Henry, and Ottawa counties.
CTS is the transportation unit of Anne Grady Services. Our extensive fleet includes large shuttle buses and small transit vehicles—allowing CTS to customize transportation to meet your needs. From groups heading to work or on an outing to an individual visiting a doctor's office, we'll get you where you're going.
Services are available from 6:00 a.m. to 5:00 p.m., 362 days a year.
Regular business hours are 5:00 a.m. to 6:00 p.m., Monday—Friday. After-hour, weekend, or holiday services are schedulable in advance.
Our Services Include:
Non-Emergency Medical – Medicaid
Non-Medical (NMT) – Medicaid and Private Pay
Contractual
School transport
Primary Markets Served:
Wheelchair transportation
Individuals residing in Supported Living and Intermediate Care Facilities
Skilled nursing facilities
Specialized school transportation
Transportation for community activities
MEDICAL TRANSPORTATION
CTS is a licensed non-emergency medical transportation provider through the Ohio Medical Transportation Board. One hundred percent of our fleet is wheelchair accessible. Accommodation for aides and service animals is available when needed. Standard wheelchairs are available upon request. Same-day transportation is available, subject to availability.
REQUEST A RIDE
NON-MEDICAL TRANSPORTATION
CTS is a state-certified provider of non-medical transportation services (NMT). NMT is specialized transportation to and from Adult Day Programs, Vocational Programs, or private work sites throughout Northwest Ohio. We provide more than 80,000 one-way trips per year. Contact us today to handle all of your transportation needs. Call 419-868-7433.
REQUEST A RIDE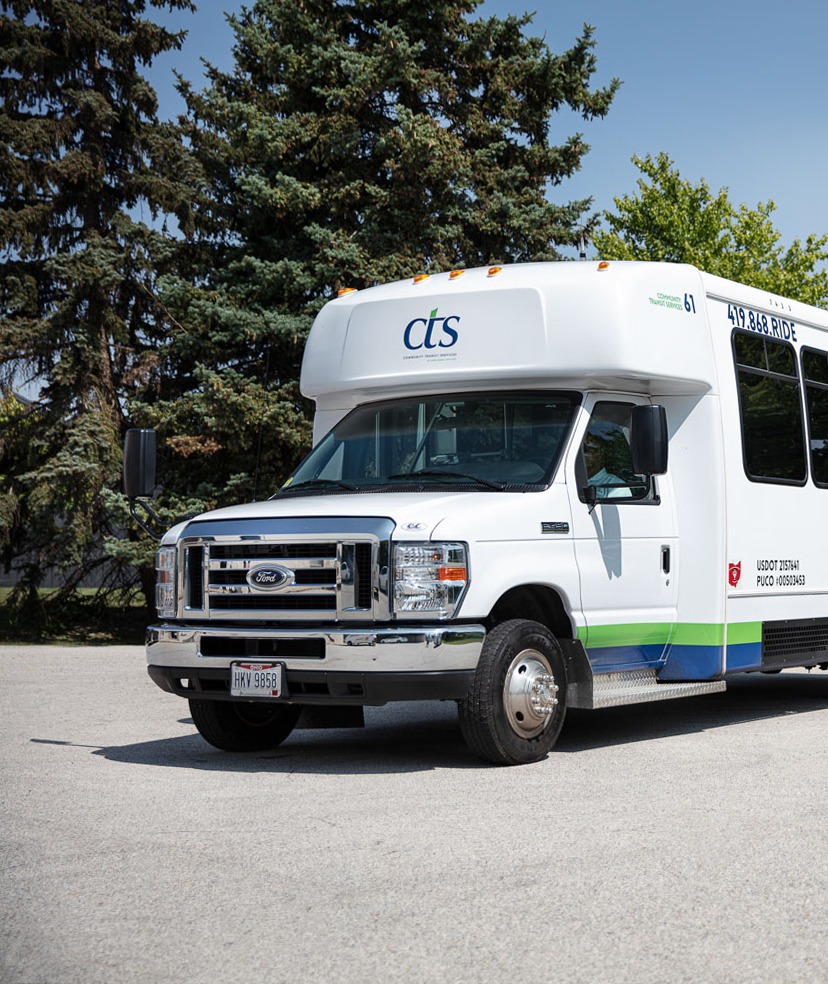 Our transportation department's mission is to provide a quality, safe transportation service throughout Northwest Ohio based on five principles: D.R.I.V.E.
D = Dignity
CTS is a transit provider for the entire community. Our primary focus is providing service with the utmost respect and equality to all riders.
R = Reliability
We strive to be a dependable transit provider by effectively communicating, keeping our fleet and drivers organized, and delivering timely service to our riders.
I = Integrity
We aim to provide riders with great experiences—from scheduling their trips to reaching their final destinations. We equip our staff to meet our rider's needs.
V = Viability
We maintain proper accreditations and licensing through local, state, and federal governing authorities and ensure our transit operation complies with all rules and regulations.
E = Efficiency
As a licensed transit provider, we offer cost-effective services matching our riders' needs.
Have questions about CTS transportation services?